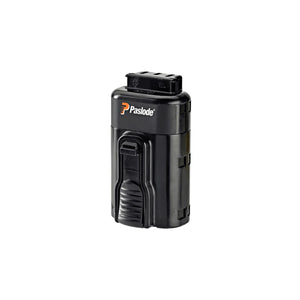 Paslode 018890 6V 1500mAh NiMH Battery
Rechargeable: This battery is designed to be rechargeable, so you can use it multiple times and avoid the hassle of constantly buying new batteries.
High capacity: With a capacity of 1500mAh, this battery can power your Paslode cordless nailer for extended periods of time.
NiMH technology: The battery is made with Nickel-Metal Hydride (NiMH) technology, which provides a higher energy density and longer cycle life compared to other battery chemistries.
Quick charge time: The Paslode 018890 battery has a quick charge time of 1 hour, allowing you to get back to work faster.
Compatibility: This battery is designed to be used with Paslode cordless nailers, ensuring compatibility with your tools.
Reliable power: The battery provides reliable power for your tools, ensuring consistent performance and productivity.
018890 Specification:
Chemistry: Nickel-Metal Hydride (NiMH)
Voltage: 6V
Capacity: 1500mAh
Charge time: 1 hour
Compatibility: Designed for use with Paslode cordless nailers
Dimensions: 4.4 x 1.4 x 1.4 inches
Weight: 8 ounces
Warranty: 1 year
What is included:
1x 018890 6V 1500mAh NiMH Battery
---
We Also Recommend
---